Date Published:
06/02/2020
Example of Company Winding Up Letter from High Court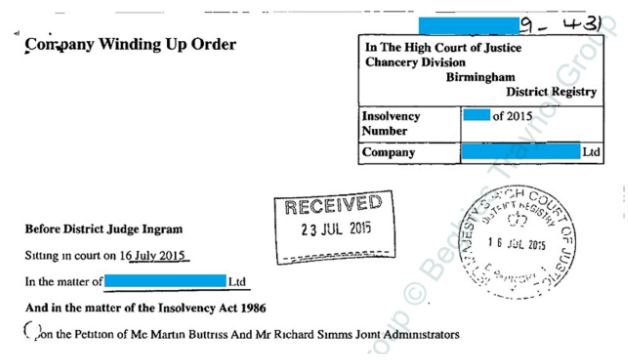 What does the letter say?
"It is ordered that (Company) be wound up by this Court under the provisions of the Insolvency Act 1986. The administrator/s are released from office with immediate effect."
What does this letter mean?
This is a Court order which instructs an insolvent company that they are to enter compulsory liquidation.
The likelihood is if you have received this letter you are aware of the court action against your company. A Winding Up Order (WUO) is preceded by a Winding Up Petition (WUP), a court request made by a creditor to liquidate a company which has failed to repay a debt in excess of £750 within 21 days. This figure has increased to £10,000 as per the Government's temporary measures which will apply for the period 1 October 2021 to 31 March 2022.
This letter will identify that this case was presented to court and upon assessing the evidence the ruling was to liquidate the company in order to repay its creditors. The Court then appoints an Official Receiver and the roles of company directors will legally cease. Often this order will identify the Official Receiver that has been appointed.
If you receive this order and wish to appeal these legal proceedings there are options available to you. It can however be very difficult to undo a wind up order once it has been issued and during this process it is vital to ensure the risk of repercussions to directors is minimised. It is important that you can demonstrate as a director that you fulfilled your duties competently and without negligence or misconduct.  An insolvency professional can advise you on this process.
Find out more about reversing a wind up order.