Our Professional and Financial Services Sector Experience
While professional advisers are swift in responding to their clients changing needs, they must not forget the need to ensure their own company is operating as effectively and efficiently as possible within the current challenging and ever-changing landscape.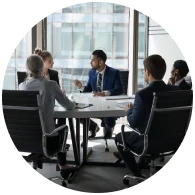 Find Your Begbies Traynor Group Professional
Use our People Search to find the person you need based on location or skillset.
Taking advantage of increasing demand
As existing companies as well as new entrants to the market look to take advantage of rapidly changing consumer preferences amidst the background of a challenging economic landscape, the demand for professional services is expected to be higher than ever. In order to be able to take advantage of these opportunities, you need to ensure your company is performing on a solid financial and operational footing.
At Begbies Traynor Group, we work with a range of professional service providers, including lawyers, solicitors, architects, financial advisors, and consultants, to ensure they have the agility and resilience needed to operate effectively in this new landscape while also being in a prime position to take advantage of the opportunities the future may present.
We are here to help professional and financial service providers across all stages of their business lifecycle. As a multidisciplinary practice, we can provide valuable input when it comes to areas such as: raising equity or other commercial funding; divesting, merging, or acquiring a business; capital and cash flow management, growth and expansion plans; and all matters of corporate insolvency.
Helping distressed professional services companies
If your business is suffering operational or financial distress, obtaining swift sector-specific advice during these times of operational and financial distress can make all the difference when it comes to the future of the company.
When it comes to corporate restructuring and turnaround, there is not a one size fits all solution; what may work for one business, may be completely inappropriate for another. By taking the time to understand the company, the challenges it is facing, as well as the landscape it is operating in, we can put together a tailored plan to ensure the business is in the best place possible to overcome its current issues while looking towards future success.
Advice on Rescue Options
Arrange a free consultation with an insolvency professional at Begbies Traynor – choose a time at your convenience and with no obligation.
Free Consultation
A proven track-record of success
We have enviable experience of working alongside financial and professional services companies in distressed financial positions. We recently advised a banking group which was seeking to raise funds through a combination of divesting assets as well as securing third party investment. When it became clear that this strategy was not going to be successful, we helped to negotiate an Accelerated Mergers & Acquisition (AMA) process to an unconnected third party.
We have also provided assistance to a well-known bridging finance lender, which was carrying millions of pounds of unsustainable debt secured on properties across the country. It was decided that the best outcome for all concerned was to place the company into administration. This was done to protect the position of the lenders, who otherwise stood to lose the entirety of their loans.
The administration process helped to mitigate losses to creditors by protecting the company and its assets while a way forward was plotted. The moratorium afforded by a formal administration process ensured no one creditor could begin – or continue – legal proceedings against the company whilst our administrators were in office. An eight-figure amount was returned to creditors following the administration.
A multi-talented team of professional advisers
With a highly qualified team consisting of chartered accountants, insolvency practitioners, restructuring professionals, corporate financiers, and forensic accountants, we have the experience and the industry knowledge to make a real difference to your company.