Our Media and Telecoms Sector Experience
A turbulent few years has given way to continued economic uncertainty, leaving the technology and media sector facing significant challenges to their financial wellbeing and future solvency. Being able to pivot quickly in such a fast-paced environment as technology and media is paramount when it comes to seizing opportunities in this ever-changing and increasingly challenging economic landscape.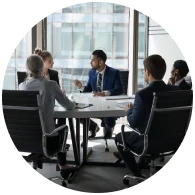 Find Your Begbies Traynor Group Professional
Use our People Search to find the person you need based on location or skillset.
Technology
Technology has been at the heart of the extremely successful work-from-home revolution – a movement that quickly offered the vital alternative we needed to 'traditional' office working during a crisis situation, which has now become a common and accepted way of working.
This shift has enabled some tech businesses to thrive as they took advantage of this sudden and unexpected demand; others, however, found themselves unprepared and lacking the capital sums needed to invest, and therefore unable to keep pace with their rivals.
Media companies in financial distress
Media companies face considerable challenges in the face of misinformation, political disunity, and proclamations of 'fake news.' Being able to report impartially, without threat or fear of intimidation, also appears to be an increasingly elusive ideal around the world.
The overcrowded media marketplace and sheer number of companies competing for attention also makes it difficult for individual businesses to stand out. A distinctive brand and core audience could help to improve their financial situation, but this takes time to develop.
A further challenge for the sector is the power of social media - its ability as a whole to divert people from the facts through sheer noise or confusion, and negatively influence situations through the weight of peer pressure.
Cyber security is an additional challenge that media companies can't afford to ignore. They must protect customers and consumers, as well as their high value content assets. Putting in place effective protective measures comes at a significant cost, however.
Advice for your media or telecoms business
Whether you are looking to embark upon an ambitious growth of expansion project, or whether you are looking to downsize operations and streamline your current business model, Begbies Traynor are here to help.
Understanding liquidation of technology and media businesses
Creditors' Voluntary Liquidation, or CVL, is a formal process for businesses unable to recover their financial footing. It protects creditor interests by minimising losses, and ensures you also fulfil your legal duties as a director.
During CVL, your company assets are sold at a liquidation auction, and the proceeds used to pay back creditors in the statutory order. Unfortunately, this process results in the loss of all jobs, but eligible employees can also claim redundancy pay and other entitlements.
Begbies Traynor Group are company liquidation specialists, and can provide further advice tailored to your own tech or media company. A broad range of robust rescue programmes exist in the UK for businesses facing insolvency and potential liquidation, however, so could your technology or media company be rescued?
Advice on Rescue Options
Arrange a free consultation with an insolvency professional at Begbies Traynor – choose a time at your convenience and with no obligation.
Free Consultation
Rescue my technology or media company
Company Voluntary Arrangement (CVA)
It may be possible to restructure your company's debts within a Company Voluntary Arrangement. This is an official agreement that protects viable companies from liquidation and closure.
If you're eligible, the business can make a single monthly payment that's distributed amongst creditors in the pre-agreed proportions. This provides your company with some certainty in relation to budgeting and cash flow. Additionally, all interest and charges are frozen.
CVAs typically last between three and five years, and directors regain control once the agreement is in place. Creditors must sanction the arrangement initially, however, with 75% (by value of debt) being required to vote in favour.
UK Liquidator's expert team has extensive experience of negotiating with creditors, both formally and informally, and this may be all you need to turn your company's fortunes around.
Company administration
If creditors are intent on closing the company down because of its debt situation, entering company administration stops any existing or intended legal action. Once a winding up petition is granted, it can be difficult to save a business from liquidation given the short timescales for action to be taken.
When a company enters administration, it's protected for eight weeks by a statutory moratorium on creditor action. This allows the appointed administrator time to assess the company's needs and take the necessary steps. These could involve restructuring debt, for example, or in some cases a business sale may be possible.
Sell my tech or media business
A process called pre pack administration enables underlying business assets to be sold, either to third party buyers, or sometimes to the directors of the ailing company. This sale is carried out via the liquidator, who ensures the assets are professionally valued.
Pre-pack administration must provide creditors with a better return than other insolvency routes, and can offer a positive outcome following a period of deep financial uncertainty within a business.
A further benefit of pre pack administration is that jobs are saved. TUPE legislation, the Transfer of Undertakings (Protection of Employment) regulations, safeguards employment contracts as staff transfer from one employer to another.
Although rescue is always our principal goal, it may be that your technology or media company simply cannot be turned around, and that liquidation is the only choice. In either scenario our partner-led team of licensed insolvency practitioners are here to help.
Begbies Traynor Group offer same-day consultations free-of-charge, so please get in touch – we work from a broad network of offices throughout the UK, so you're never far away from professional advice.