Our Transport and Logistics Sector Experience
At Begbies Traynor Group, we have extensive experience advising aviation, logistics, haulage, and public transport businesses across all stages of their lifecycle. Whether you are experiencing operational or financial worries as a result of soaring prices and acute labour shortages; or if you are looking to take advantage of increasing demand by embarking upon an ambitious expansion project, the experts at Begbies Traynor are here to help.
Helping you prepare for growth
If soaring demand has made you keen to explore the possibility of expanding the company, we can provide guidance when it comes to raising finance to fund this, as well as taking an impartial overview of the company to ensure it is operating as efficiently as possible. This kind of insight can help you advantage of new opportunities when they are presented, while mitigating the risk of overtrading.
Part of Begbies Traynor Group, Eddisons are a highly experienced team of agents, valuers, and auctioneers who can assist when it comes to buying and selling vehicles, or sourcing a new warehouse space or depot to facilitate ambitious expansion plans.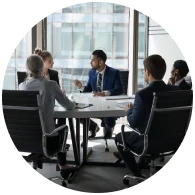 Find Your Begbies Traynor Group Professional
Use our People Search to find the person you need based on location or skillset.
Industry expertise during times of distress
If rising operating costs and the changes to importing and exporting practices has restricted trade, our licensed insolvency practitioners can take an impartial view of the business and put a plan in place to help turn the situation around. We can advise on a wide range of both solvency and insolvency solutions regardless of the size of the business.
If business offerings are multi-faceted, it may be the case that time, energy, and finances should be diverted to the areas of the company which are proving to be more profitable, while taking steps to wind down those which are failing to generate revenue. With our help, this can be done in a way which causes minimal disruption to staff, customers, and the operations of the business as a whole.
If the business has become insolvent and is beyond rescue, we can also talk you through what liquidation would mean for the company, its creditors, and employees.
Advice on Rescue Options
Arrange a free consultation with an insolvency professional at Begbies Traynor – choose a time at your convenience and with no obligation.
Free Consultation
The importance of sector-specific advice
No two businesses are the same, and likewise a business rescue and recovery strategy should be equally individual to the company it has been devised to help. What may be the perfect solution for a business operating within the retail sector may be wholly inappropriate for your transport and logistics company. It is only by viewing your company as the individual entity it is - while giving careful consideration to the industry you are operating within - that a robust, tailored plan can be put into place. 
At Begbies Traynor Group, you will always be able to receive help and advice from someone who knows your industry, the challenges you are facing, as well as the opportunities. It is this sector expertise which can prove to be the difference between a company thriving, or merely surviving.