Our Construction Sector Experience
Strong demand for construction work tells a story of two halves. With demand comes opportunity, and a well-run, financially stable company can seize these opportunities and boost their output. An abundance of work also entices new entrants to the market, keen to take advantage of this heightened demand.
For those operating on a more uncertain financial footing, however, increased competition from new entrants to the market look could be a step too far. Couple with soaring costs, squeezed margins, and a shortage of labour, this could push some to breaking point.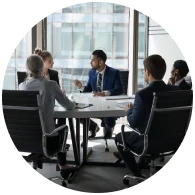 Find Your Begbies Traynor Group Professional
Use our People Search to find the person you need based on location or skillset.
Given the uncertainty ahead for many construction firms, obtaining early professional advice is crucial. Begbies Traynor Group is the UK's leading rescue and recovery consultancy, and can provide the guidance and support you need if your construction company is facing decline.
Additional challenges in the construction sector
Skilled labour shortage
An ageing workforce has created a shortage of skilled labour in construction for some years now, and younger workers have not been attracted to the industry in sufficient numbers. Additionally, Brexit has ended the right to free movement, making it difficult for construction companies to attract workers from the EU, and operate to the same productivity levels as pre-Brexit.
Reverse charge VAT
HMRC has now introduced a VAT domestic reverse charge, which means in certain instances VAT must be accounted for by the recipient of supplies rather than the supplier. With healthy cash flow typically problematic in construction, this could adversely affect businesses that are not main contractors, and increase the threat of irreversible decline.
Advice on Rescue Options
Arrange a free consultation with an insolvency professional at Begbies Traynor – choose a time at your convenience and with no obligation.
Free Consultation
Professional insolvency advice for the construction sector
It is imperative to obtain early insolvency advice if your construction company is experiencing financial distress, to avert a crisis situation. Dealing with severe creditor pressure at a time when the moratorium on legal action is ending, could leave companies on a precipice in terms of liquidation.
Swift and decisive action is needed in this scenario, as once a creditor has petitioned to wind up your company, the time available for action is extremely limited. The UK operates a robust regime to help businesses in financial distress, and the sooner you seek advice from an insolvency professional, the greater the likelihood of company rescue.
So what procedures might be available if formal action is required?
Rescue my construction business
Company administration
Company administration offers your business a safe haven from creditor legal action. For eight weeks from entering administration, a moratorium remains in place, providing the administrator with time and space to formulate a plan.
This might include cost-cutting, for example, to relieve the pressure on working capital and emerge as a more streamlined company, or restructuring debts within a legally binding arrangement.
Company Voluntary Arrangement (CVA)
If your business is assessed as viable for the long-term by a licensed insolvency practitioner, a Company Voluntary Arrangement can reset its financial capability and enable it to trade out of difficulty.
A repayment proposal is presented to creditors, and if 75% (by value of debt) vote in favour, the CVA comes into force, typically lasting between three and five years. A significant benefit of this process is that directors regain full control once the arrangement is in place.
Sell my construction company
A business sale may be possible even if your company is experiencing severe financial decline. Pre pack administration is a procedure that quickly enables the underlying assets of a business to be sold, with staff contracts being transferred safely under TUPE regulations.
Selling your business via pre pack administration may be an option if a creditor is threatening a winding up petition. The process is typically appropriate for larger companies, and is fully regulated.
Liquidation advice for the construction sector
If it is not possible to rescue your business, it is important to act swiftly and place it into voluntary insolvent liquidation. Creditors Voluntary Liquidation, or CVL, protects creditor interests as is required by insolvency law, but also helps directors to avoid accusations of wrongful trading.
The appointed liquidator sells all business assets, and the funds generated from sale are used to repay creditors. The company name is then struck from the register at Companies House, and the business ceases to exist.
Compulsory liquidation is the other form of insolvent liquidation, but choosing to take this route introduces considerable risk. It could leave you facing disqualification for up to 15 years, and personal liability for any increased creditor losses due to the delay in ceasing trade.
When you enter Creditors' Voluntary Liquidation, you may also be eligible for redundancy pay and other statutory entitlements, such as holiday pay and wage arrears. We can put you in touch with a trustworthy and highly experienced claims management firm to establish your entitlement and help you make a claim.
Those firms that act quickly and seek professional advice at an early stage of decline, or before cash flow problems increase to the stage of distress, can protect themselves from the worst outcomes.
Awareness of cash flow needs, streamlining practices, and other protective measures, can save businesses from liquidation. Our team of experts at Begbies Traynor Group are here to provide that support, and help you deal with the unparalleled economic and trading circumstances currently being experienced by the construction sector.
Please get in touch with one of the team – we offer free, same-day consultations and operate an extensive network of offices around the country.