Our Retail Sector Experience
The challenges facing the retail sector have been well-documented over the years. While much has been said of the shift away from bricks and mortar retail as online channels capture more and more of our spending, there is still a market for the physical shopping experience. The ability to touch and hold a product before purchasing is the major advantage traditional retail spaces have over online platforms; harnessing this huge plus point is going to be vital over the coming years.
Changing consumers, changing expectations
Consumers are the ones who will shape the future of the industry, and retailers need to be agile enough to ensure they meeting these ever-changing expectations. Retailers who refuse to deviate from how they have always operated in the past, risk being left behind as the industry experiences this seismic shift in consumer preferences and expectations.
Consumer confidence is vital for the discretionary spending market; however, the increasingly uncertain economic climate has considerably reduced spending power.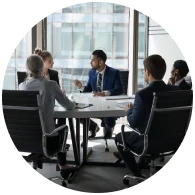 Find Your Begbies Traynor Group Professional
Use our People Search to find the person you need based on location or skillset.
Seizing new opportunities in the retail sector
In spite of the obvious challenges, retail is a hugely important industry not only for the economy, but also for consumers. The desire to purchase will always be there; retailers need to be open to the opportunities which may arise in this ever-changing marketplace, as well as ensuring the company is on a solid financial footing to allow these opportunities to be seized upon.
At Begbies Traynor Group, we adopt a sector-focussed approach, ensuring you and your clients have access to an industry specialist when determining the future of the business. Whether this involves growing or expanding the business through either natural growth or by acquisitions, pivoting its offerings to reach a new audience, or formulating a restructuring plan to improve efficiency, we will take the time to understand the opportunities and challenges the company is facing, before talking you through the various strategies which could help you or your client achieve this.
Comprehensive support for retailers
As a multi-disciplinary practice, we can provide comprehensive support across all areas of business turnaround, restructuring, and refinancing. Through taking an impartial overview of the business as a whole, we can suggest ways of improving efficiency, lowering overheads, and increasing profitability. This may involve informal strategies such as negotiating with creditors, while other situations will require more extensive restructuring.
If an injection of money is needed in order to replenish cash flow, our commercial finance team can work alongside you and your clients to identify the most appropriate funding channel; while our corporate finance specialists can advise on the likelihood of divesting of the business through a sale to a connected or unconnected third party.
Our property specialists, Eddisons, provide a full property management service to tenants and landlords alike, from rent collection, through to service charge and facilities management, while our building consultancy offering provides the expert support you need whether you are redeveloping or vacating a retail premise.
Advice on Rescue Options
Arrange a free consultation with an insolvency professional at Begbies Traynor – choose a time at your convenience and with no obligation.
Free Consultation
Help for distressed retailers
For financially overburdened retailers, a process of corporate simplification can help to identify underperforming parts of the business which may be hindering the overall health of the company. Ridding the company of these areas allows for time, resources, and money, to be directed towards the more profitable parts of the company.
Retailers experiencing severe financial distress may need to enter into a formal insolvency process in order to protect the ongoing viability of the company. This may involve entering into a legally-binding repayment plan known as a Company Voluntary Arrangement (CVA), or else placing the company into administration to shield against threats of litigation and further creditor action.
Regardless of the level of help your company requires, any possible strategy will always be considered with an unwavering focus on the retail landscape, ensuring the route taken is suitable for your business and the sector it is operating within.