We support our clients – purchasers, vendors and lenders – across every aspect of transactional work, from initial planning through to post-merger integration. Whether we're working with corporates, private equity or other investors our partner-led teams – with an abundance of successful deals behind them – bring invaluable technical expertise, market knowledge and business acumen to every transaction.
We aim to add value from the first stages of the transaction cycle.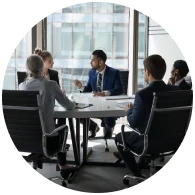 Find Your Begbies Traynor Group Professional
Use our People Search to find the person you need based on location or skillset.
Before formal negotiations begin, we advise on prospective deals, analysing value, identifying risk and benchmarking performance so our clients begin from a position of knowledge and strength. As the process continues our detailed and incisive due diligence provides an essential foundation for investment (or divestment) decisions. When a deal completes, our practical and strategic experience paves the way to successfully integrating the new entity into wider business operations.
Along with providing information and analysis, our teams can take a hands-on role in the deal process – transactions, after all, are what we specialise in.
Advice on Finance Options
Arrange a free consultation with a finance and funding expert at Begbies Traynor Group – choose a time at your convenience and with no obligation.
Free Consultation 
Depending on the needs of our clients, we can oversee and manage specific aspects of the cycle; or take responsibility for the management of the whole process, coordinating advisors and key stakeholders throughout to ensure deals are delivered on time and without a hitch.