Our Education Sector Experience
Regardless of whether you are operating a nursery, a university, or anything in between, the challenges inherent in running, managing the finances of, and engaging with stakeholders of an education establishment, have never been greater.  
Early Years and Nurseries
The increase in free childcare hours for 3–4-year-olds, was a move welcomed by parents across the country. However, for those who own and manage nurseries, delivering these additional 'free' hours without suitable government funding to back it up, has caused huge amounts of financial and emotional stress.
Nurseries were left with two choices; either subsidise the 'free' hours with the hope of recouping money from additional paid for hours, or else choose not to offer the free hours and risk alienating those parents who do want to participate in this scheme.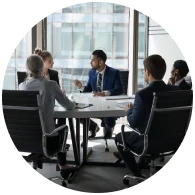 Find Your Begbies Traynor Group Professional
Use our People Search to find the person you need based on location or skillset.
Academy Trusts, Independent Schools and Further Education Establishments
Rising costs for supplies, utility bills, and wages, coupled with an uncertain economic landscape, already squeezed school finances are being stretched to breaking point.
It is not just schools faced with escalating bills; parents too are having to make tough decisions about where their income is best spent. While increasing tuition fees may be the obvious answer for independent schools, time will tell whether parents feel the same when weighing up the value of private education.
Universities and Higher Education
The value of a university education has been firmly under the spotlight since the hike in tuition fees which switched the onus for paying the majority of the cost from the government and on to individuals. With prospective students now faced with yearly fees of up to £9,000 plus living costs, many are now giving more consideration to alternative options which may be more economically viable.
Universities are having to pull out all the stops to prove their worth and entice these sceptical individuals to their establishment. For many, particularly those who cannot rely on their reputation alone, this means a greater level of financial investment is needed to improve the facilities on offer. With many universities' finances finely balanced, this is a risky strategy which may not pay off for all.
Advice on Rescue Options
Arrange a free consultation with an insolvency professional at Begbies Traynor – choose a time at your convenience and with no obligation.
Free Consultation
Restructuring options for distressed education establishments
When companies are in trouble, one of the first steps is often to identify cost-cutting measures, and areas where immediate savings can be made. This may involve reducing the number of staff, sourcing alternative suppliers, or even closing down an arm of the business entirely. While this approach can be hugely successful for some, this strategy cannot as easily be applied to an educational backdrop.
In any educational establishment, maintaining - and exceeding - standards is absolutely vital. From ensuring minimum staffing levels in early years settings, through to prioritising the learning and safety of students above financial gain, turning around a distressed education business is rarely a straightforward process. It is not just the interests of creditors and/or shareholders which need to be considered, but also the ongoing requirements of those enrolled at the nursery, school, college, or university,
Education providers often have wide and diverse stakeholder base, not all of whom are at the same level of financial knowledge. Supporting and managing those stakeholders is an important role for management.
Without a deep understanding of the industry and the multitude of factors which must be considered, the best advice simply cannot be given. At Begbies Traynor Group, we have a specialist team of education experts who are perfectly placed to talk you and your clients through the options available to devise a robust, yet flexible strategy, which places the needs of the company, its creditors, and also its students at the forefront.
How Begbies Traynor Group can help
Regardless of the challenges being faced, the good news is that there will always be a demand for quality education from both students and parents alike. Ensuring your company is in a solid financial position, allows you to seize on the opportunities this industry presents, safe in the knowledge that the business is operating on solid foundations and agile enough to weather any future changes to funding or government legislation.
As a multi-disciplinary practice, we are here to assist you or your client's nursery, school or university at all stages. Through our property consultancy arm, Eddisons, we can assist with obtaining condition improvement funding (CIF) for building improvements and estate management, while our corporate finance team can help explore the opportunities selling or merging with another establishment could bring.
Whether you are a headteacher, governor, company director, or working on behalf of an education client, our partner-led team are here to assist across all areas of business restructuring and turnaround, commercial funding, and property services.