Our Property Services and Real Estate Sector Experience
The property and real estate sector has experienced unprecedented operational and financial challenges over recent years following the paradigm shift in the way people live and work.
Demand for commercial office space has considerably reduced over recent years as a hybrid style of working has become the norm for many companies.
While demand for residential property is also being affected. The uncertain economic landscape has dented buyer confidence and increasing interest rates has made moving house a much more expensive prospect for would-be purchasers.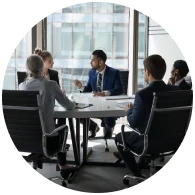 Find Your Begbies Traynor Group Professional
Use our People Search to find the person you need based on location or skillset.
Challenges and opportunities
These financial pressures have exacerbated problems for property and real estate businesses already in financial distress, creating an environment where insolvency may lie ahead.
The requirement to act quickly in the face of financial decline is clear under these circumstances, and it's important to know where to seek professional support. Begbies Traynor Group has extensive experience of helping property and real estate companies to deal with financial uncertainties, and make the right moves according to their situation. Reliable liquidation advice is just a phone call away, and we can offer a free, same-day consultation to quickly assess your company's best options.
If you're concerned that your property company will not survive the challenging operating environment you're currently in, what would liquidation mean, both for the business and for yourself as a director?
Advice on Rescue Options
Arrange a free consultation with an insolvency professional at Begbies Traynor – choose a time at your convenience and with no obligation.
Free Consultation
Liquidation advice for the property and real estate sector
The liquidation process for companies unable to recover from financial decline can be undertaken voluntarily by directors. Doing so offers significant benefits when compared with the alternative of compulsory liquidation.
If you wait for a creditor to wind up the business, creditors as a whole may incur unnecessary losses. Your priority in this situation should be your creditors, rather than the company, which is reflected in the stringent investigations that take place following compulsory liquidation cases.
By entering the formal Creditors' Voluntary Liquidation process, or CVL, you're effectively protecting your creditors as required in law, but also yourself as the director of an insolvent company.
Both liquidation procedures follow the same general path, in that your company's assets are sold to generate funds for creditors. The difference is the risk that, in the case of compulsory liquidation, you take on by not prioritising creditor interests.
Liquidators are obliged to investigate the reasons behind a company's failure, and you can pre-empt serious issues in the main by being proactive. Once the liquidator has completed their work the business closes down permanently, and the company's name is removed from the register at Companies House.
It's also worth knowing that, if you're an employee as well as a director, you may be able to claim redundancy pay. We can put you in touch with experts in this area for a full assessment of your eligibility.
Although the potential for liquidation is a key concern for business owners in this sector, the UK's expansive regime to help ailing businesses may offer an alternative to liquidation if you act with speed.
Clearly, in the first instance you need to seek professional insolvency advice, however. Our partner-led team at Begbies Traynor Group are ideally placed to provide the reliable, unbiased guidance you need, and may be able to offer a range of options depending on your company's situation.
Rescue my property/real estate business
Renegotiating debt
Renegotiating company debts, whether on a formal or informal basis, is always an option worth investigating, as when a new arrangement is in place it can instantly relieve the pressure on working capital.
A Company Voluntary Arrangement (CVA) involves officially restructuring debts, and allows you to repay creditors at an affordable rate over a period of 3-5 years. In order to be eligible for a CVA your company must be viewed as being viable to trade on in the long-term – an assessment that must be made by a licensed insolvency practitioner (IP).
In fact, all formal insolvency solutions must be administered by a licensed IP, given their official nature. This ensures you take the correct route for your business – one that's been professionally assessed as the most suitable option.
Company administration
Other rescue and recovery alternatives might include company administration, which is particularly advantageous for companies experiencing relentless pressure from creditors. An eight-week moratorium on creditor legal action commences as soon as the company enters administration, and control is placed in the hands of the administrator.
Various routes out of administration may be appropriate, potentially including a sale of the business as a going concern on the open market, or using the pre pack administration process.
Sell my property or real estate company
Pre pack administration
This is a type of administration that involves selling the underlying assets of the business. Staff are transferred over to a new employer under the protection of TUPE legislation, which safeguards their existing terms and conditions of employment.
Of course, informal measures such as securing additional finance may also be appropriate, and these can offer confidence that cash flow will remain healthy. To find out how we can help your property or real estate business deal with the current financial uncertainties, please contact our expert team to arrange a free, same-day consultation. We operate an extensive network of offices around the country.