Date Published:
25/03/2020
Example of The Insolvency Service Final Proof of Debt Form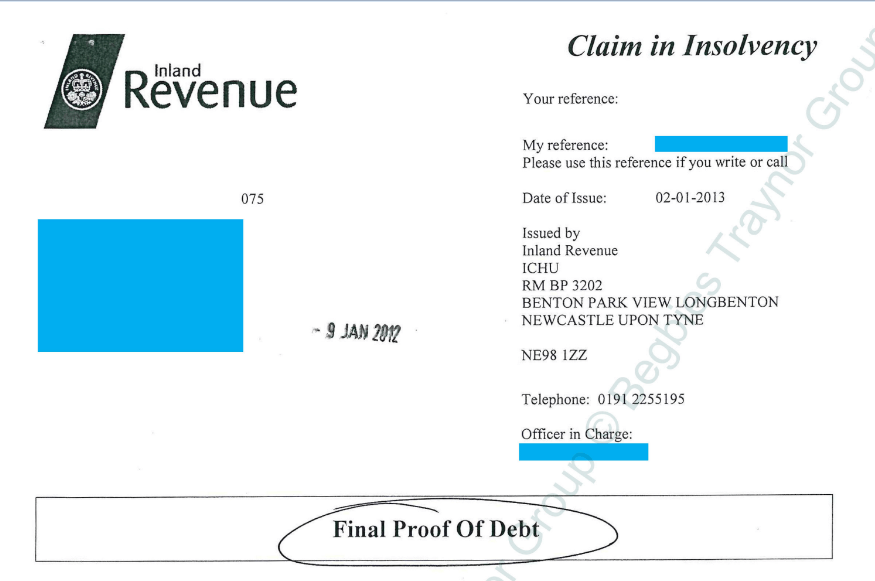 What does the letter say?
The Final Proof of Debt letter simply states the final figure that a creditor is entitled to claim when a company that owes them money has entered an insolvency process. This form follows a Proof of Debt form (4.25) which is to be filled in writing by the creditor making a claim.
The Final Proof of Debt form will also indicate whether the claimant is preferential or non-preferential.
What does this letter mean?
In an insolvency process such as administration or liquidation, there are usually a number of creditors that are owed money by the company in financial trouble. It is common for HMRC to be one of these creditors – sometimes they're the only creditor – but the creditor list can run into tens or even hundreds of small suppliers. These creditors must begin the process of appeal to the liquidator/administrator to recoup their losses. When a creditor lodges their claim, they will ultimately be sent the Final Proof of Debt letter to state that their claim is valid and the claim amount is documented on the letter.
Sometimes the debtor will dispute the claim; for example they may state that the creditor is charging for goods that were faulty or never received. In some circumstances the debtor may  request that the creditor reduces the claim upon submission of an affidavit by the bankrupt/directors, or where this is not possible a certificate from the trustee or liquidator may be submitted. We can advise both debtors and creditors on the best route forward when dealing with a Final Proof of Debt form – contact our experienced corporate insolvency team at Begbies Traynor.