Corporate insolvency services for asset-based lenders
Begbies Traynor Group is an AIM listed specialist professional services organisation, providing independent professional advice and solutions to businesses, financial institutions, the accountancy profession and individuals in the area of corporate finance, recovery, investigation, risk management and commercial finance.
Our aim is to add value and optimise the financial outcome for our clients and business stakeholders. Begbies Traynor was originally founded as an insolvency practice. Through a strategic process of acquisition and organic growth, we now offer a wide range of specialist professional services to the business community. The success of the group has resulted from the quality, commitment and hard work of our people. We now have more than 500 staff and partners based in a network of offices covering the whole of the UK, the Channel Islands and overseas.
Why Work With Begbies Traynor?
We have a long standing reputation for working with the Asset Based Lending community
We offer partner led, specialist expertise, throughout the UK backed up by BTG Global Advisory, our premier network of professionals
We are the UK's leading specialist professional services firm, working alongside professional advisers, financial institutions and management teams.
Corporate Finance
Our clients include institutions, quoted companies, owner-managed businesses and management teams – but all have one thing in common – they require experts with vision, experience and confidence to achieve a successful outcome to a transaction process.
Acquisition Advisory and Fundraising
Our services include:
Whether your client is a company seeking acquisition or merger opportunities or a management team considering a buy-out, we have the expertise to provide a full range of lead advisory services including:
Strategic reviews
Target research and assessment
Valuation advice and deal structuring
Business plan and forecast preparation
Debt and equity fundraising
Due diligence
Transaction management
Disposal Advisory and Equity Release
If your client is considering either a full or partial sale of shares or the disposal of non-core activities, our experience in sell-side lead advisory work will ensure that the goal of realising maximum value is achieved.
Our services include:
Exit strategy review and pre-process planning
Valuation advice
Buyer identification and assessment
Sales memorandum and data room preparation
Buyer approach and negotiation
Transaction management
Commercial Finance
BTG Global Advisory offers a national brokerage offering independent advice on a wide range of financial solutions to clients.
The brokerage advises businesses on all types of funding issues and given the flexibility asset based lending products bring we are frequently introducing businesses to the invoice finance market. As such a good working knowledge of asset based lenders and the criteria they apply to new business can be found. Consequently our experienced invoice finance professionals can quickly and effectively provide assistance whether by easing the sales process or helping move a client away.
We have assisted many companies/businesses tailoring financial solutions to suit their needs through very strong relationships with all major lenders.
When We Can Help
There are many situations where we can add value, including:
When a business is underperforming or not maximising its potential
When stakeholders are seeking to realise value by way of an exit or disposal
When management need assistance to stabilise a business to enable a preliminary action plan to be drafted
When stakeholders are seeking to prepare robust operational plans and financial forecasts to underpin a restructuring exercise
When a business is seeking to generate, maintain or raise sufficient cash to support ongoing trading levels
When a business needs assistance to manage its funding relationships
Corporate Insolvency
Sometimes circumstances dictate that restructuring simply is not a viable option for a distressed company: cash-flow pressures may have become unmanageable or it may be too late to put into effect any restructuring strategies. There may be any number of other reasons why a formal insolvency procedure may be the appropriate option.
Where we do recommend formal insolvency proceedings, we will fully explain the range of possible options – outlining which we think is right for you and your client.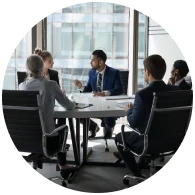 Find Your Begbies Traynor Group Professional
Use our People Search to find the person you need based on location or skillset.
When We Can Help
Our team of insolvency specialists will review your client's business and put forward their expert opinion on which option is right for you and that business. These include:
Administration
Debtor Collections
Voluntary Liquidations
Appropriate international insolvency procedures permitted by local law.
Forensic Accounting
Our forensic accountants have technical skills enhanced by a wealth of practical expertise, aimed at providing robust opinion and advice. We pride ourselves on cutting through to the financial heart of the matter, providing jargon-free reports that set out our findings clearly and concisely, to assist you and the court.
Our team is led by a group of dedicated partners and senior managers who are all specialists with significant forensic accounting expertise, all of whom have substantial expert witness experience within a courtroom environment.
Red Flag Alert
Red Flag Alert is an acclaimed credit monitoring system, developed by Begbies Traynor Group, which reports significant and critical actions against thousands of companies in the UK. This fully automated system allows you to monitor the financial health of your clients and suppliers.
The system generates an email alert when a significant or critical action takes place in relation to a specific company and provides details on the company and the action that has occurred. Red Flag Alert also includes an integral database, which holds up to four year's profit and loss accounts, balance sheet information, details of directorships and shareholders.
International Coverage
BTG Global Advisory is a unique international professional resource providing practical, cost-effective solutions for stressed and distressed businesses and reflecting the increasing globalisation of markets. It offers a one-stop shop solution for stakeholders around the world, deploying a range of skill sets capable of dealing with even the most complex cross border scenarios. Its members include insolvency practitioners, profit improvement consultants, turnaround and restructuring managers, forensic investigators, corporate intelligence experts and many other firms possessing equally valuable specialisms.
BTG Global Advisory members are not only respected players in their local markets, but are also internationally aware. They have embraced the concept of adding value, rather than cost to assignments. In addition to its strength in developed economies, the network has a particular focus in emerging markets and offshore financial services.