Date Published:
21/02/2020
Example of Walking Possession Agreement Letter from HMRC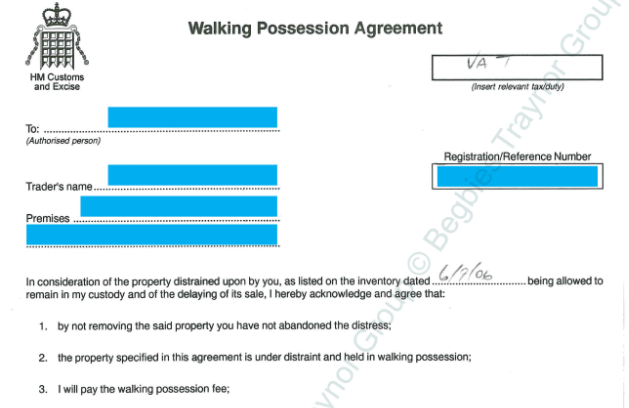 What does the letter say?
"In consideration of the property distrained upon by you, as listed on the inventory dated being allowed to remain in my custody and of the delaying of its sale, I hereby acknowledge and agree that:
By not removing the said property you have not abandoned the distress
The property specified in this agreement is under distraint and held in walking possession
I will pay the walking possession fee
While the distress is in force authorised persons will be given access to the property at any time for the purpose of inspection or completion of distress
I will not allow the property to come into the possession of any other person
I will inform any person who may seek to the levy any other distress or execution that you are already in possession of the property distrained upon and I will inform you of any such visit
At any time after you may remove and sell the property if I have not paid the amount due together with your costs, charges, expenses and fees by cash or banker's draft;
Except with the consent of the Commissioners and subject to such conditions as they may impose, I will not remove or allow the removal of any of the specified property from the premises."
What does this letter mean?
A Walking Possession Agreement (WPA) will follow on from an HMRC Distraint notice, five days after the distraint was issued. Following this five-day period, an HMRC Enforcement Officer will return to your business premises – if payment is still outstanding – and issue the Walking Possession document which entitles them to collect your pre-documented assets (as listed in the distraint notice) and take them away to be sold at auction. These seized assets will legally belong to the bailiff and you cannot prevent their removal. It is up to the bailiff whether these assets are removed immediately or temporarily left at your premises for the time being. You can continue to use them for business purposes but cannot move or sell them.
If you have been issued with a Walking Possession Agreement, you should consult with a licensed insolvency practitioner as soon as possible – you can do this free of charge by contacting Begbies Traynor and one of our regional IPs will be able to offer their expert advice. It is not justifiable for an enforcement officer to merely write down a list of items that they have viewed through a window and push a walking possession agreement through the letterbox for your signature.