Date Published:
22/06/2023
The UK construction sector remains at the forefront of UK industry insolvencies. The economically sensitive sector continues to suffer under the collective weight of the rising cost of raw materials, labour, fuel and energy, particularly for firms operating under fixed-price contracts signed before the inflation spike 12 months ago. In addition, skilled labour shortages, project delivery delays, the burden of Covid-era loan repayments and the prospect of refinancing at much higher interest rates are weighing on firms' balance sheets.
Consequently, a record number of construction firms and their supply chain partners have entered insolvency or administration this year. Construction firms accounted for nearly one in five of all UK insolvencies recorded in the first quarter of 2023, according to data from the government's Insolvency Service.
Chart 1: Construction sector remains the most vulnerable industry to insolvency risk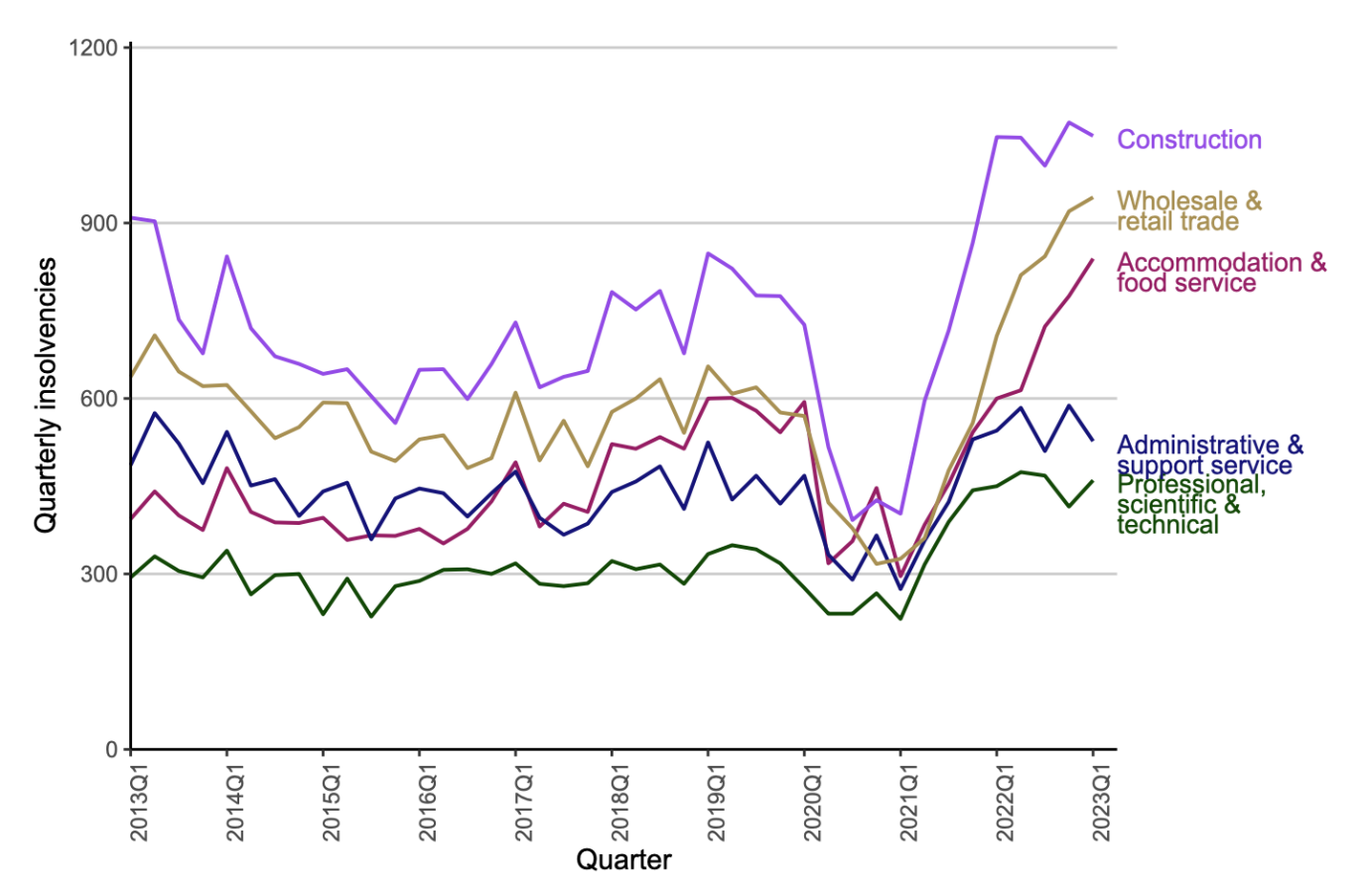 Over the 12 months leading up to March 2023, 4,165 construction firms became insolvent, representing 19% of all known insolvency cases by industry. Subsequently, the proportion of UK construction firm insolvencies moderated slightly in April to 17% of all known insolvencies by industry, while May's sector breakdown was unavailable at the time of writing. However, separate Creditsafe data suggests 449 construction companies became insolvent in May, while 42 construction sector companies entered administration. Over the year, there have been 2,125 construction company insolvencies, representing 17% of all company failures and the highest contributor by insolvencies by industry.
Earlier this month, the 420-unit luxury residential development in Castlefield collapsed into administration. It follows the failure of Gallery Gardens, St George's Gardens, City Gardens, Wavelength and Sky Gardens across four separate DeTrafford company vehicles. Also in June, Henry Construction Projects fell into administration, becoming the largest construction sector firm to collapse since NMCN, the utilities engineering contractor, in October 2021. Henry Construction Projects reportedly struggled after a succession of winding-up petitions after non-payment to suppliers, insufficient labour on site, and slow and intermittent construction progress.
Elsewhere, in the North East, two construction firms failed earlier this year: Tolent, a company with £200m in revenues in 2021, and Newcastle-based Metnor Construction, which reported £63m in revenues in 2022, both collapsed into administration in February. The two North East firms suffered from the knock-on effects of the collapse of other developers, contractors and supply chain partners.
Forecasts of construction sector insolvencies reaching a new annual record are increasing. Analysts suggest financial pressure is picking up due to jobs priced 12 months ago before the bulk of the inflationary spike squeezing already thin margins on schemes locked into fixed-price contracts. At the same time, a lack of skilled professionals can lead to increased costs through project delivery delays and wage inflation pressures. Construction firms increasingly realise that adopting modern construction methods and using advanced technology, such as artificial Intelligence (AI), can improve design, cost efficiency, productivity and risk mitigation, health and safety. However, administration levels are expected to remain high in the construction sector, with firms reliant on Covid-era government-backed loans facing refinancing challenges and insolvency risks as higher borrowing costs erode profitability and cashflows.
At the national level, there are mixed signals. The S&P Global/CIPS UK Construction Purchasing Managers' Index shows an improvement in the construction sector, with increased new orders, improved supply conditions as logistics bottlenecks eased, an improved balance between demand and supply, and reduced input inflation. Construction companies cited a gradual turnaround in client confidence and faster decision-making on new projects. Developers will be cheered by a further decline in the input prices, wrote Matthew Pointon, Senior Property Economist at Capital Economics. "That said, we still think the economy is set for a mild recession later this year which will act to dampen demand. We don't expect a strong recovery in construction this year."
There are also concerns about a weak outlook in housebuilding activity, pressured by the cost of living crisis, rising interest rates, economic uncertainty and the expiry of government schemes (e.g. Help to Buy). The confluence of these pressures is reducing housing demand and housebuilders' confidence. Housing sector construction output is expected to decline by 7.1% in 2023, according to Experian, before increasing by 2.5% and 4.8% in 2024 and 2025, respectively 
At the full UK construction sector level, monthly construction output is estimated to have decreased 0.6% in volume terms in April 2023, according to Office for National Statistics (ONS) data published in June. The contraction follows two months of consecutive growth. Construction output is forecast to decline by 1.3% in 2023, according to Experian, as housing sector weakness dampens the outlook.
If your firm is affected by these issues, do get in touch and let us see how we can help. We advise main contractors, subcontractors and funders on how to navigate this turbulent environment with support bespoke to your circumstances.