Date Published:
12/03/2020
Example of Statement of Affairs Letter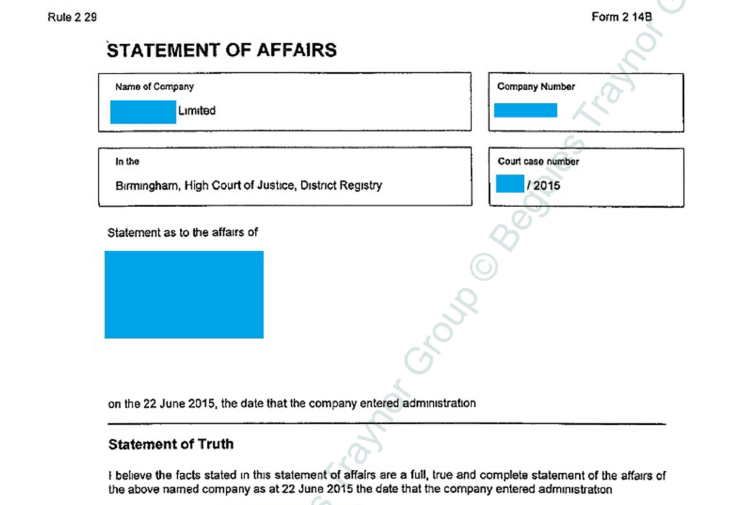 What does the letter say?
"I believe the facts stated in this statement of affairs are a full, true and complete statement of the affairs of the above named company as at xxx (DATE) the company entered administration."
What does this letter mean?
A Statement of Affairs provides a detailed summary of a company's assets and liabilities and is a key part of the insolvency process. Generally prepared by a liquidator or an appointed professional, this document must detail your company's financial position in order to provide full visibility to the current status and value of your business.
Details necessary for completion include information of the company's debts, liabilities, assets and creditors. This will require a collation of current and historic financial information pertaining to the company.
This document is then made publically available at Companies House and will provide a basis of information for administrators, creditors and shareholders – as well as potential buyers. It provides a clear audit trail of the status of business assets, and how much would be available to creditors once assets have been sold.
Completing this form is in many ways like completing a balance sheet for your business, however, the Statement of Affairs can prove to be a complex, detailed document and is a vital component to the insolvency process. It is advisable to seek assistance from an experienced insolvency professional to ensure a timely and accurate statement can be produced.
Find out more about the Statement of Affairs.